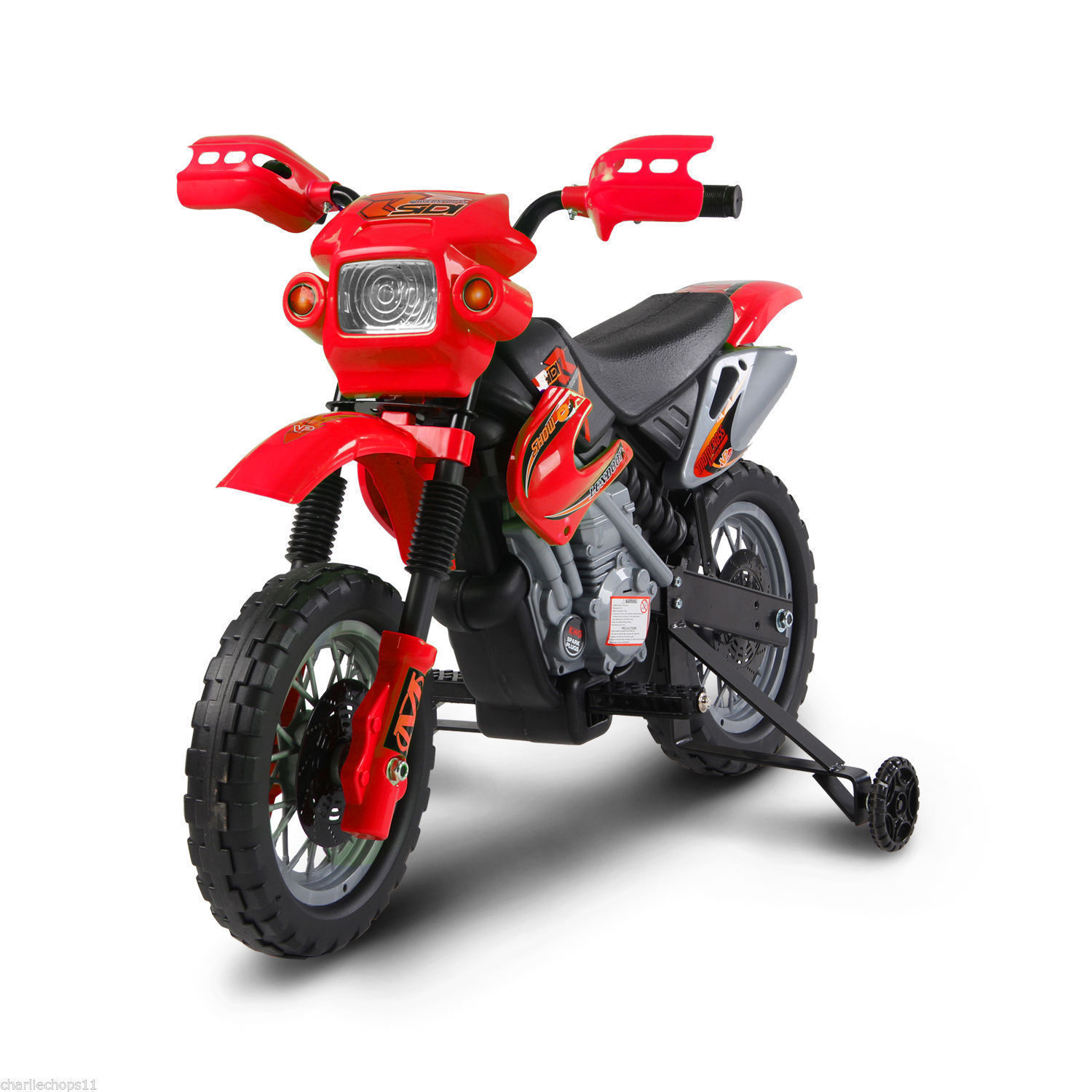 kids scrambler dirt bike motorbike ride on motocross(Walk in Purchase Only)
The Super Scrambler Dirt Bike is
the perfect entry level electric motorbike
Teach your child how to ride.
Available in 3 bright colours the Electric Mini Motorbike is fitted with special training wheels to help your child balance and ride their new motorbike.
Working lights and sounds come as standard to keep your child entertained for hours of fun.
The Super Scrambler dirt bike comes with everything you need to build, charge and play.
With easy assembly you can be riding the dirt track in no time at all.
The powerful 6v battery allows up to 30minutes of continuous play depending on the weight of the child and road surfaces used.
Measuring 102cm(L) x 53cm(W) x 66cm(H) the mini
motorcross bike is suitable for ages 3-6
years with a maximum weight limit of 25kg
This is a very attractive childs 6v ride-on motorbike. Constructed for robust kids play, yet still remains durable and certainly striking in appearance.
This kids ride-on dirt bike will provide your children or grandchildren with lots of hours of fun & enjoyment as the 6 Volt Battery Powered Childs Dirt Bike Motorbike is easy to control, thus ensuring that even very young kids can operate this battery powered bike with minimum fuss.
The 6 Volt Battery Powered Childs Dirt Bike Motorbike can easily be assembled by an adult with minimum construction required.
This ride-on bike is powered by a 6v rechargeable battery, it features a working headlight and also music from the press of a button.
This kids ride-on toy is made from toughened and durable plastic with a quality gloss finish, built to endure the kind of play that kids so often like to enjoy!
This brand new massive feature packed battery ride-on motor bike is powered by an electric motor with a dry storage battery.
This motor bike comes in the original factory packaging ready to be set-up and enjoyed.
Ride-on Bike Size: 1020 X 530 X 660mm
Ride-on Bike Motor Size: 6V 12W
Maximum Capacity for ride-on bike: 25Kg
Suitable Age: 36 Months and over
Ride-on Bike Speed: 2-3 Km/h